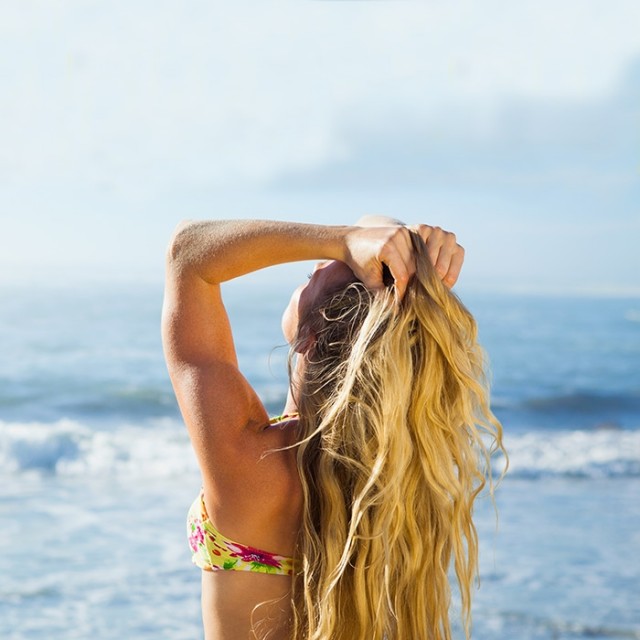 As I have come to realize over the last couple of years, natural products are just better for your hair, especially when it comes to using natural oils instead of those over-the-counter serums loaded with silicones. If you have never used natural oils in your hair care routine, the warmer weather months are a good time to start.
Natural Oils Serve Several Purposes in Summer
Natural oils can moisturize your hair after a day at the beach, nourish dry ends and even cut down on the frizzies. They can also save hair from chlorine when applied before a dip in the pool and can soothe a post sun dry, itchy scalp.

Additionally, certain natural oils are natural heat protectants and can protect hair from summer heat styling abuse.
How to Use Natural Oils Every Day ​

Now that you know just how many uses natural oils have in your everyday haircare, all you need to know is how to use them based on your issues. It is as simple as this…
As a Deep Conditioning Mask for Dry Hair

Before your next shampoo, apply to hair and leave on for 30 minutes. Shampoo as normal.
As an All-Natural Serum for Frizzy Hair
Just rub a tiny bit into your fingertips and apply to affected areas, preferably only mid-shaft to ends.
As a Protector from Pool Water
Before a day at the pool, fully coat the full lengths of your hair with oil. This will minimize how much chlorine actually penetrates your hair strands.
As a Post Sun Scalp Soother
At bedtime, rub a small amount of oil into your scalp with your fingertips. Shampoo your hair as normal in the morning.
As a Natural Heat Protectant
Apply to hair right before passing the flat iron or curling iron through a section of your hair. Repeat with each section of hair as you heat style your hair.
Choosing Your Go-to Oil​

Not sure which oil to try? Here is a list of our top 5 favorite natural oils. Just select the oil that most closely matches your hair type.
One of the most popular go-to oils for damaged or dry hair. Why? Unlike other oils, coconut oil has the ability to penetrate the hair shaft as it moisturizes to strengthen the hair, reduce protein loss, add shine and reduce frizz. On top of that, coconut oil is a natural heat protectant. Need we say more? Look for organic, unrefined coconut oil. Just note, coconut oil stays solid at most temperatures. To liquify, just place a bit in the microwave for a few seconds.
Olive oil has been used for centuries as a moisturizer for the hair (and skin too). This much beloved oil is rich in antioxidants and Vitamins A and E. It will add moisture, softness and shine to dry hair all while stopping frizz. An especially great solution for dry, thick or very frizzy hair. Look for extra virgin olive oil.
Avocados contain two key fatty acids that work to make hair shiny and moisturized. In addition, the natural protein will strengthen the hair. This oil is lighter than olive oil, so it is a good go-to oil for those with fine to medium hair. It is sold in most vitamin/health food stores and is also easy to find on Amazon.
​
One of the lightest oils out there, sweet almond oil is a great bet for those with fine hair. Although light, this oil will still to the trick to add moisture, shine and reduce frizz. It is also widely available online or at your local vitamin/health food store.
​