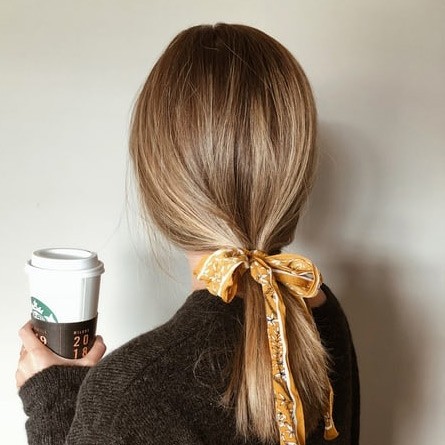 As the snow blanketing many areas of the U.S. easily confirms, we are deep in the middle of the most extreme of winter weather. Unfortunately, that means more time spent inside in dry, heated rooms. This consistent dry heat can lead to dry, cracked skin as well as dry, dull looking hair. On top of that, just add those go-to heat styling appliances to the mix and your hair may be vulnerable to real winter damage.
Is It Really Damaged?
When it comes to determining if hair is truly damaged, the good news is that it is pretty simple to spot. First, look at the ends of your hair. Do you notice any strands that are split in two at the ends? Split ends are the most common form of hair damage. On top of paying attention to your ends, be aware that damaged hair also generally looks and behaves differently than healthy hair. In what ways? It is harder to curl and style, feels rough, and lacks shine. Damaged hair is also prone to breaking off (especially if your hair has any natural texture). You can spot this most severe form of damage by looking for any frayed or jagged ends, a telltale sign that the hair has literally broken off. Do any of these describe your mane right now? Read on…
How Can I Fix It?
Once hair is damaged and fraught with split ends (or breakage) the best quick fix is to get a trim. As much as many of us may hate to do this, it is the best way to keep damage at a minimum. Why? Left alone split ends can just travel up the hair shaft, causing the hair to become weaker and more prone to breakage. Enough said on that one.
Once your split ends are gone and your hair is freshly cut, you can now focus on giving your hair what it is really craving–moisture. Invest in a good deep conditioning treatment that is designed to be left on the hair for a bit of time–usually anywhere from 3 to 30 minutes. With any deep treatment, make sure to reap the benefits of the treatment and follow the directions on just how long you let the conditioner sit on your hair. In addition (even if the directions don't specifically tell you this), you can also increase conditioner absorption by adding heat from your blow dryer for part of the time or investing in a heat cap. You can also apply the conditioner to dry, not wet hair to increase conditioner absorption. Committing to a weekly deep treatment regimen following the above steps will help your hair a great deal. In just a few short weeks, the condition of your hair will improve quite a bit!
Here are a few deep conditioning treatments for you to try:
Three-In-One Formula
This deep conditioning and repairing treatment can be used in three different ways to adjust to your needs and schedule. Use it as an in-shower treatment, an overnight mask or for spot healing on dry hair. The formula includes organic Cupuaçu Butter, which has been found in one study to be 1.5x more nourishing than Shea Butter. On top of that, it contains no silicone and the formula is vegan and 96% natural.

​Wavy, Curly, Coily Hair Formula
​This is a deep penetrating mask for textured hair. Its rich formula will provide intense moisture without added weight. The mask can be left on for 3 minutes in the shower or for 15-20 minutes for deeper hydration. In addition, it can be used as an overnight mask for maximum moisture absorption. This product is also silicone-free and will not cause buildup.
99% Natural

​This 99 percent natural overnight mask contains plant-based ingredients and herbs to strengthen the hair and add moisture and shine. Dreamer also replenishes lipids to smooth the hair cuticle. This product is also silicone-free.
Pre-Shampoo Treatment

​A restorative mask specifically designed for heat-styled, colored and chemically processed hair. Formula contains a mix of butters, oils and extracts to both condition and strengthen the hair, while adding wonderous shine. Silicone-free and vegan.
In-Salon/Professional Formula

​This plant-based conditioner is developed to work like an in-salon treatment to rejuvenate damaged, dull hair. Product deeply penetrates and strengthens the hair, while leaving it soft and shiny.
​What Else Can Be Done?
There is also another important step that should be a part of your new routine to get your hair healthy again. That is, you should better monitor your use of heat styling appliances. However, we are not recommending that you forgo a blowout post shampoo and leave your home with a wet head on a cold day. Instead, we do encourage you to think about how you can try to reduce your daily/weekly heat exposure. As part of that, please be aware that the biggest culprits for hair damage are your heat styling tools–flat irons and curling irons. Both can really negatively impact the health of the hair. To minimize dryness and damage, try to keep the styling tool temperatures as low as you can.
Here is a quick guide from experts based on hair type:
Fine/Damaged/Chemically Treated Hair: Lowest setting possible, below 300 degrees.
Normal Hair: 300 to 350 degrees.
Thick, Coarse Hair: 350-400 degrees.
On top of that, don't forget to always use a heat protectant before styling. They really do protect your hair from heat damage and dryness.
With a few adjustments your hair will make it through the rest of winter in a healthier place!