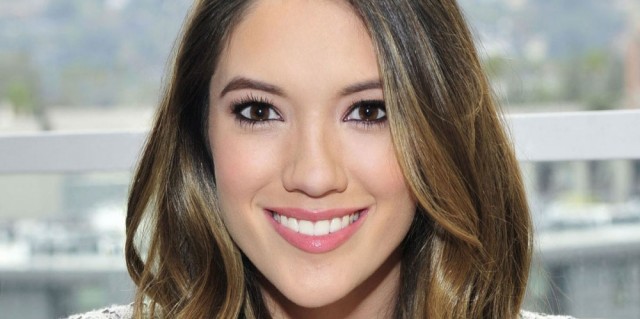 Are you a YouTube beauty fanatic? If so, you probably know Blair Fowler/ "JuicyStar07", one of the first major YouTube beauty vloggers. Known for her beautiful hair, it is no wonder that John Frieda has made her their latest brand ambassador and spokesperson for their new Brilliant Brunette Visibly Brighter Lightening Collection, an at-home color lightening system.
Glamour
magazine recently spoke to Fowler about this partnership and the secrets to her gorgeous locks. Here are a few highlights from that interview:
Q: Tell us about your partnership with John Frieda and what you're doing with the brand.
I still pinch myself when I think about it. The first thing I did was try out the products when John Frieda came to me. I was like, 'This is so cool!' So the partnership grew from there and we talked about collaborations and what we could do together. I went blond in August and then back to brunette in September, and I loved the idea of being able to either lighten or darken my hair while washing it. I don't have to go to the salon and have someone do it for me; it's just an easy way to change up your hair color a little and I've been so excited about experimenting with that and changing the tone.
Q: What's your biggest hair secret?
When I'm in the shower washing my hair I like to get it as wet as possible so it's drenched before putting on shampoo. Then I wring it out a little bit, gently, so it's more dry when I do the conditioner. Naturally shampoo is trying to wash away the grease and oil from your scalp, but if you have that extra barrier of water it's going to make sure it gets all that without taking too much so your hair can remain shiny and pretty but not dry. With the conditioner, you want your hair to be a little damp but not soaking wet so it will absorb that product. I don't know if there's science behind it or if I made it up one day, but I've been doing it for years, and I think it makes a difference.
Q: How often do you shampoo?
I wish I could go longer between washes, but I do about every other day because I workout and have acne-prone skin, so I constantly feel like I need to shower.
Q: What do your viewers ask you about the most?
Mainly about my hair. The length. And I always say to be gentle with it, so use a comb when it's wet and use a heat protectant when drying it. Sleep with your hair in a side-braid because that helps with breakage and tears. Trim it regularly. Satin pillowcases are really good for breakage. I get mine at Bed Bath & Beyond. But I switch them every two days because I have sensitive skin. I sleep on one side and then sleep on the other side the next night, and then I switch it. I can tell such a difference in my skin.
Q: How do you make your hair look good on camera and in photos?
There have been times I've been too lazy to curl my own hair for a video, so I just curl the front sections and nobody ever knows.
Q: Do you notice flyaways are more evident because of HD technology?
Yes, and I have multiple toothbrushes around my house for different uses, and one is in my filming room next to my camera with a little bottle of hairspray. I'll use that to comb down the flyaways.
Q: What's your blowout routine like?
I dry my hair with T-shirts. You can get a pack at Target of men's XL white T-shirts, and let that absorb while doing your makeup. The texture of the T-shirt is way better than using a towel. Then I spray some heat protectant spray, use a little blow-dry serum, then dry my hair upside down, and sometimes I use a round brush, and then curl it. I use a T3 hair dryer.
Here is Fowler with dark brown hair: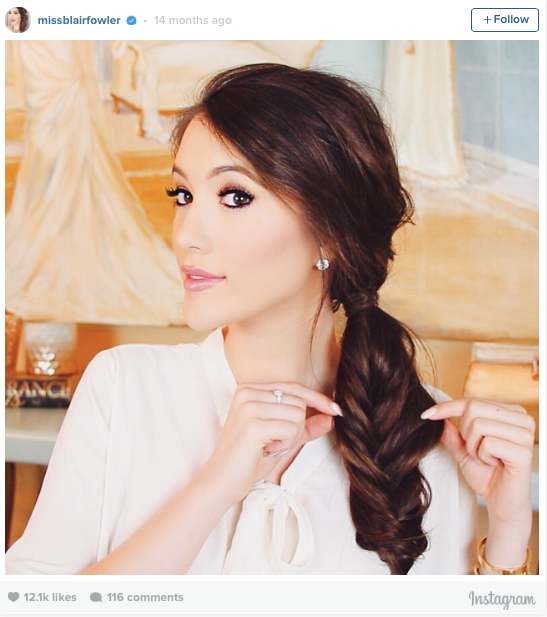 Now here she is again with her lightened brunette color: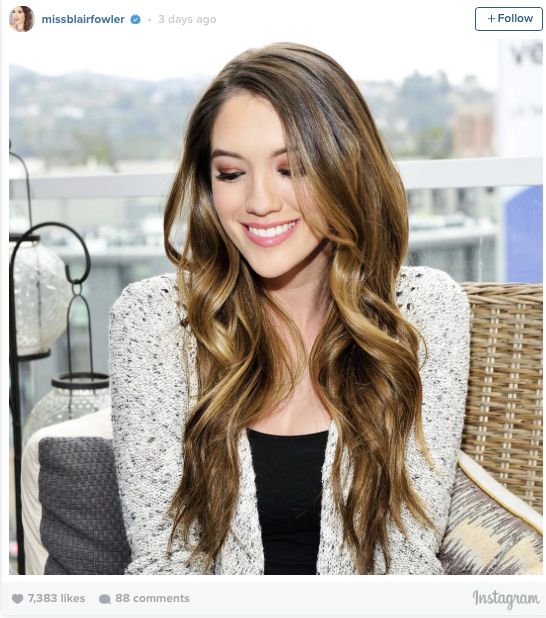 Read full interview at
Glamour
here
.





Photos: Courtesy of John Frieda, Instagram