Trends may come and go, but when it comes to looking your best it pays to understand what fashion and beauty choices best complement your unique features.
In this quest to look our best, many of us look to celebrities for ideas and inspiration. And that makes sense. After all, celebrities have access to a whole squad of experts to help them make the right choices.
As indicative of this keen interest in celebrity beauty, we have been receiving many requests for us to continue to provide hairstyle analyses of top celebrities, as we did
here
with Dakota Johnson last year. Because of your requests, we are happy to report that we will now more regularly provide this type of deep dive into celebrity hairstyle choices.
To that end, today we thought we would start with an analysis of the hairstyle choices of one of our favorite actresses: Reese Witherspoon​.
Analysis
To complete this analysis, we will use the special
Hair Analysis
feature within our iPhone app,
Hair Alone
.
All we need to do is upload a close-up photo of Reese and the app's facial mapping technology will analyze her face shape, facial features, hair type/color/length/style, plus her eye color and skin tone.
This is the photo of Reese (from the 2018
Producers Guild of America Awards
) that was uploaded to the app:
In less than 60 seconds, our
Hair Analysis
is complete. The results tell us many things including: her face shape, hair type, hairstyle/features, hair color, hair length, eye color, skin tone plus details on the shape and size of her eyes, nose and mouth.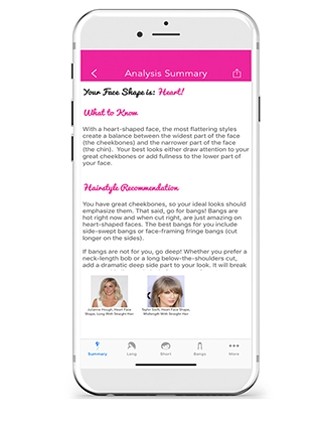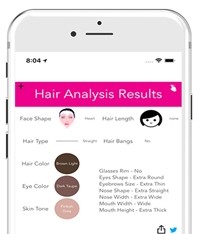 In addition to the above topline stats, the app also gives us detailed hairstyling recommendations. This data is telling us that, with her heart-shaped face, it is best for Reese to choose styles that either draw attention to her great cheekbones (such as styles with side-swept bangs or face-framing layers), or to go for styles that add fullness to the lower part of her face. In addition, the app is saying that styles with a deep side part are also highly flattering for heart-shaped faces. Ok, great!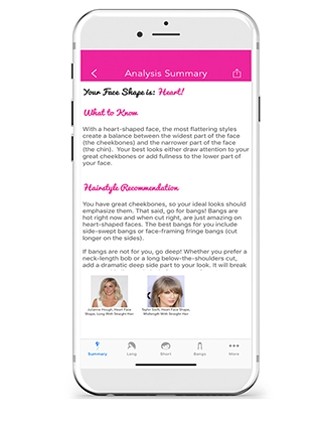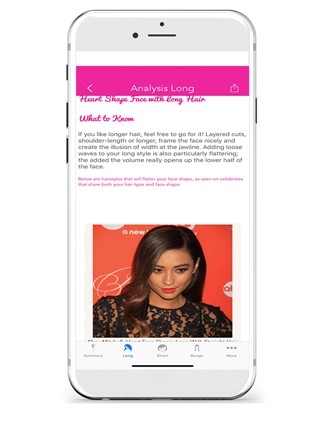 As you can see from the photo we uploaded above, Reese's gorgeous soft waves definitely add fullness to the lower part of her face, but here she has chosen a straight center part with long layers that do not highlight her great cheekbones. Based on what the app analysis is saying, is there perhaps a better hairstyle for Reese?
Interestingly enough, Reese has also been known to wear her hair with a deep side part and shorter, more visible face-framing layers. Just take a look below. These two looks really do bring out her great cheekbones and, as our
Hair Analysis
predicted, may even be a bit more flattering than the top hair photo with the center part!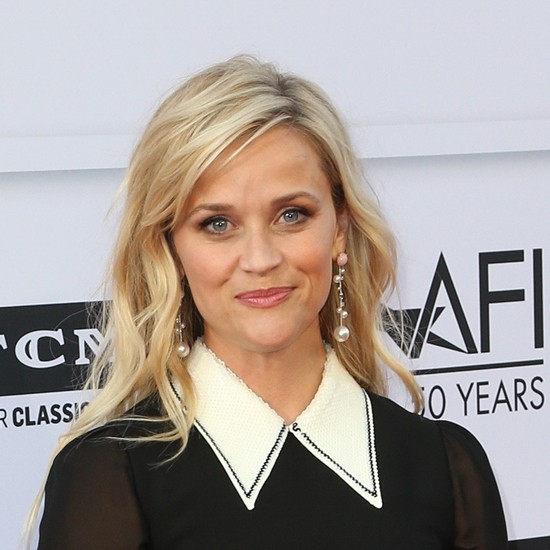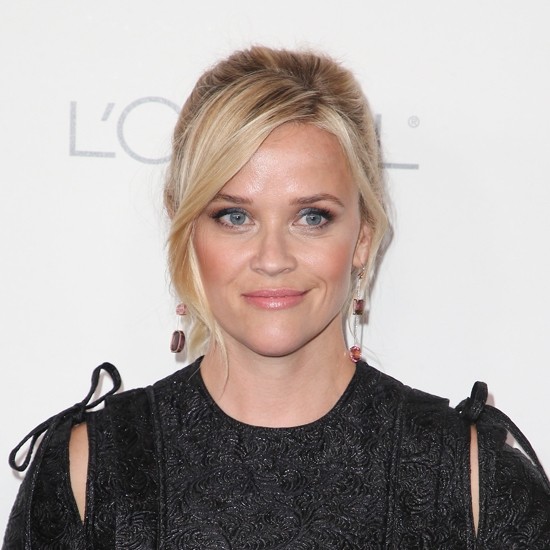 Finally, our
Hair Analysis
is also specifically telling us that side-swept bangs are particularly flattering for heart-shaped faces, another hairstyle that Reese has worn in the past. As you can see below, ​we even capture her wearing the look as an example hairstyle in the app's
Hair Analysis
results. ​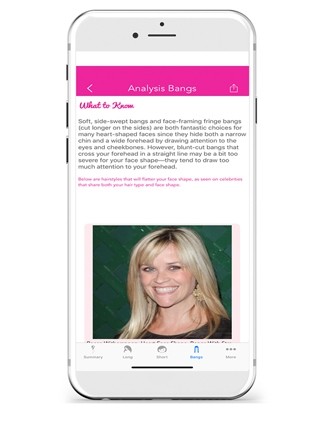 Our Conclusion
As most celebrities, Reese Witherspoon changes her hair frequently. However, more often than not, she (and her team of experts) are spot on with choosing the right hairstyles to best suit her face-shape.
To get your own expert advice (without the cost of a celebrity hairstylist), try downloading the app
here
. You may just find your next hairstyle!