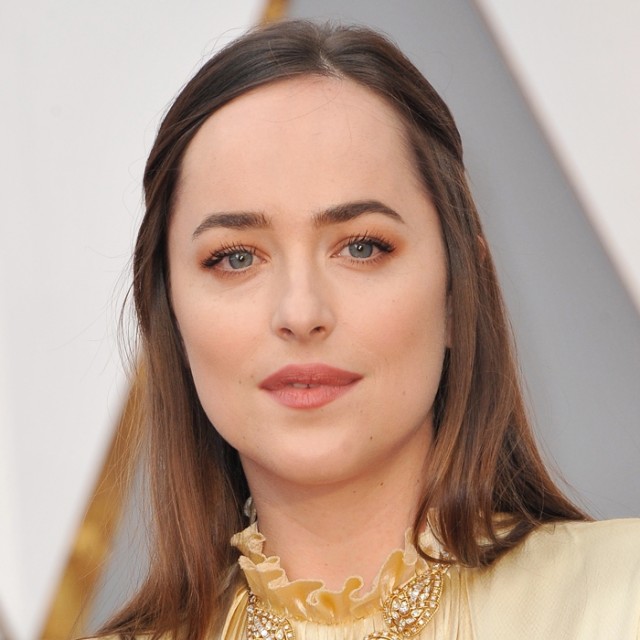 We live in a celebrity-obsessed culture. Celebrities garner so much attention these days that they have a big influence on setting the next trends for the rest of us mere mortals. Whether it be fashion or beauty, many of us look to see what our favorite celebrities are coveting at any one given moment.

That said, we also expect that their money and clout affords them outstanding expert advice when it comes to looking their best. With that thought in mind, we thought it would be fun if we used the facial mapping technology within our iPhone app, Hair Alone Hairstyling Advice, to determine if the hairstyle choices made by popular celebrities are REALLY the most flattering styles for their face and hair type. What follows is the first of what will become a regular series of celebrity hairstyle deep-dives, all made possible through the app.

To complete this type of analysis we have a simple, yet effective tool at our disposal within the app! That's right. Using our Hair Analysis feature, we are able to analyze any photo using facial mapping technology that looks at: face shape, hair type/color/length/style, facial features, eye color and skin tone.

The first celebrity up is Dakota Johnson. She is one of the hottest celebrities out there right now, having starred in the recent Fifty Shades of Grey film trilogy, which earned her both a People's Choice Award and a BAFTA Rising Star Award nomination. Although her name may be new to many, Hollywood is in her blood–she is the daughter of actors Melanie Griffith and Don Johnson.

To start our analysis of Dakota, we simply had to upload a photo of her to the app. Since the Academy Awards are this coming weekend (Sunday, March 4), we decided to use the below photo of her from last year's Academy Awards.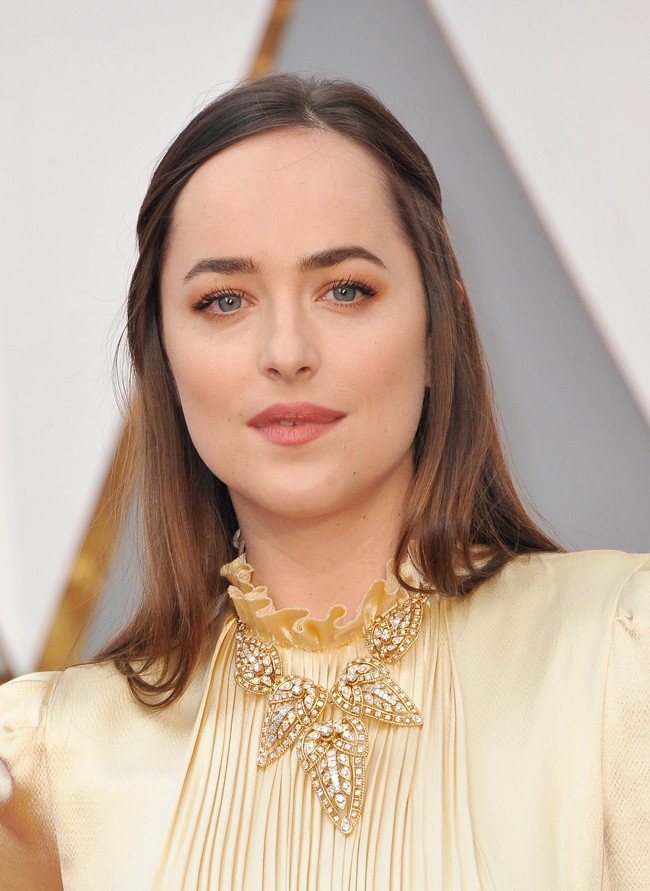 In less than one minute, we received our Hair Analysis. The topline results tell us her face shape and key hair attributes, including hair type, features, color and length, plus her eye color, skin tone and details on the shape and size of her eyes, nose and mouth.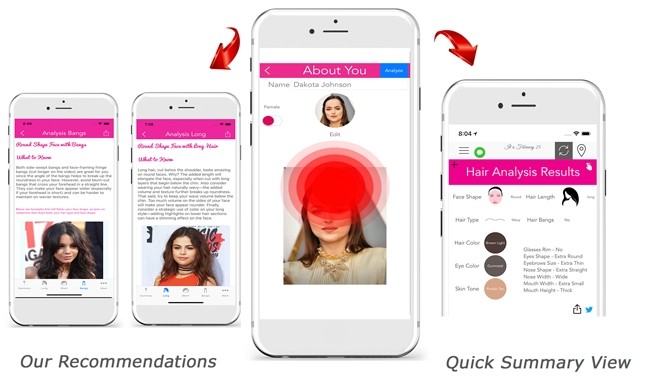 With that topline photo analysis comes detailed hairstyling recommendations! This data is telling us that she has done a few things right! With a round face, she has correctly avoided too much volume up top or around her face to avoid making her face appear rounder. On top of that, long hair is very flattering on round faces to create the illusion of length, especially when worn with waves or volume below the chin.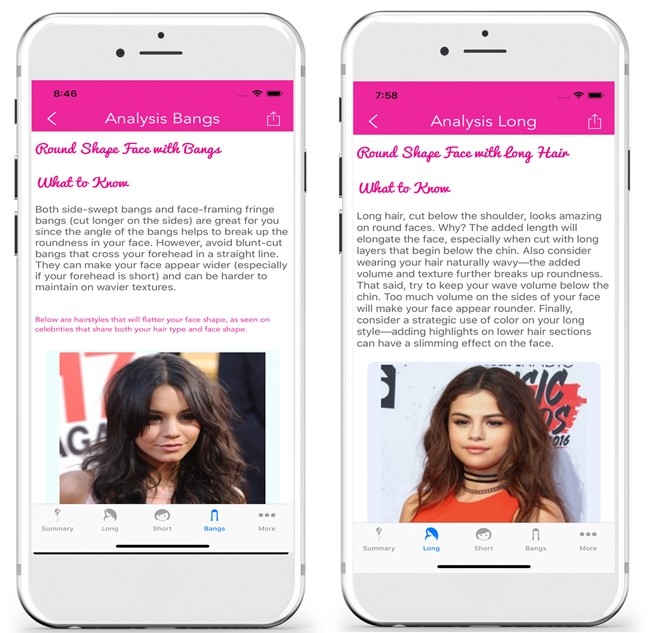 Great! However, one thing the app is also telling us is that face-framing fringe bangs, cut longer on the sides, can also help to break up the roundness in her face (and hide a long forehead). Knowing that Dakota is frequently seen wearing bangs, we pulled photos of her wearing bangs to see if the app's recommendation would prove to be even more flattering for her.

Taking a look at this photo below from the British Academy Film Awards(BAFTA) Nominees Party in 2016, Dakota is wearing bangs that have a subtle angle. Wow! She looks amazing here. Much more flattering for her face shape and longer forehead than the photo we used above to conduct the Hair Analysis!




In looking through our archives, we also found these below shots of Dakota from the "How to Be Single" UK Premiere (just a week prior to the above photo). As you can see, her bangs seem a bit longer and have a distinct angle, plus she has a nice face-framing layers. Just gorgeous!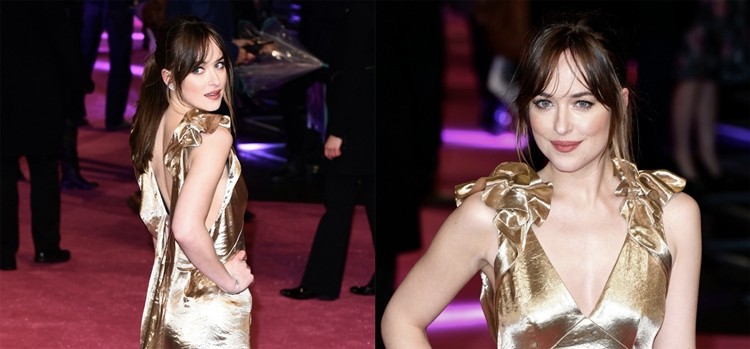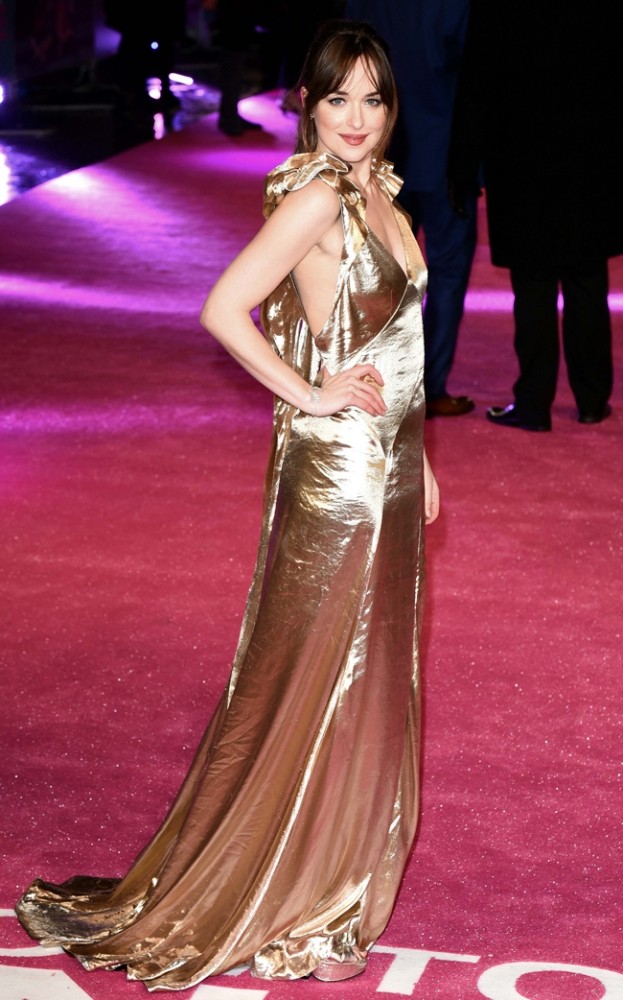 Our conclusion…the app was 100% correct! Bangs are highly flattering on Dakota, especially when cut in a visible angle. And more importantly, over the years we have seen her sport bangs more often than not. With her access to top celebrity hairstylists, we are not surprised! Dakota's go-to hairstyle choice is perfect for her!

To get your own expert advice (without the cost of a celebrity hairstylist), try downloading the app here. ​You may just find your next look!